SPONSORS
—
—
ACADIA was formed for the purpose of facilitating communication and critical thinking regarding the use of computers in architecture, planning and building science. The organization is committed to the research and development of computational methods that enhance design creativity, rather than simply production, and that aim at contributing to the construction of humane physical environments. A particular focus is education and the software, hardware and pedagogy involved in education. Please visit the main ACADIA website for more information.

—
University of Colorado—Denver


Students in the College of Architecture and Planning (CAP) at the University of Colorado Denver engage directly with a vibrant city, dynamic communities, and magnificent landscapes. Students benefit from small class sizes, dedicated faculty and staff, strong student organizations, internships and mentorships with local professionals, abundant opportunities to engage in research and creative activities, and the vitality of LoDo (Lower Downtown Denver) where we reside. Degree programs in Architecture, Landscape Architecture, Planning, Urban Design, and Historic Preservation may be combined or customized to form unique plans of study. The college also offers an interdisciplinary PhD Program.
—
SITE CO-CHAIR
ASSIA CRAWFORD
University of Colorado Denver
Assistant Professor in Technology, Department of Architecture
Assia Crawford's creative practice research focuses on the development of biological material alternatives and digital fabrication practices for a post-Anthropocene era. Her work sits on the intersection of architecture, science, and critical theory, and employs experimental and speculative design to address ecological challenges faced by communities at a time of environmental uncertainty.
Assia is an ARB registered architect and has previously held positions as the architect for the Hub for Biotechnology in the Built Environment (HBBE) and artist-in-residence at the Wellcome Centre for Mitochondrial Research. Assia is an editor of
Biotechnology Design Journal
, and runs Wild Futures Lab, a research and teaching bio design fabrication wet lab. Her current projects include an upcoming monograph entitled
Designer's Guide to Lab Practice
(Routledge, 2023) and an interdisciplinary research project that is entitled
Bio-remediator Myco-Fabrics for the Built Environment and Beyon
d.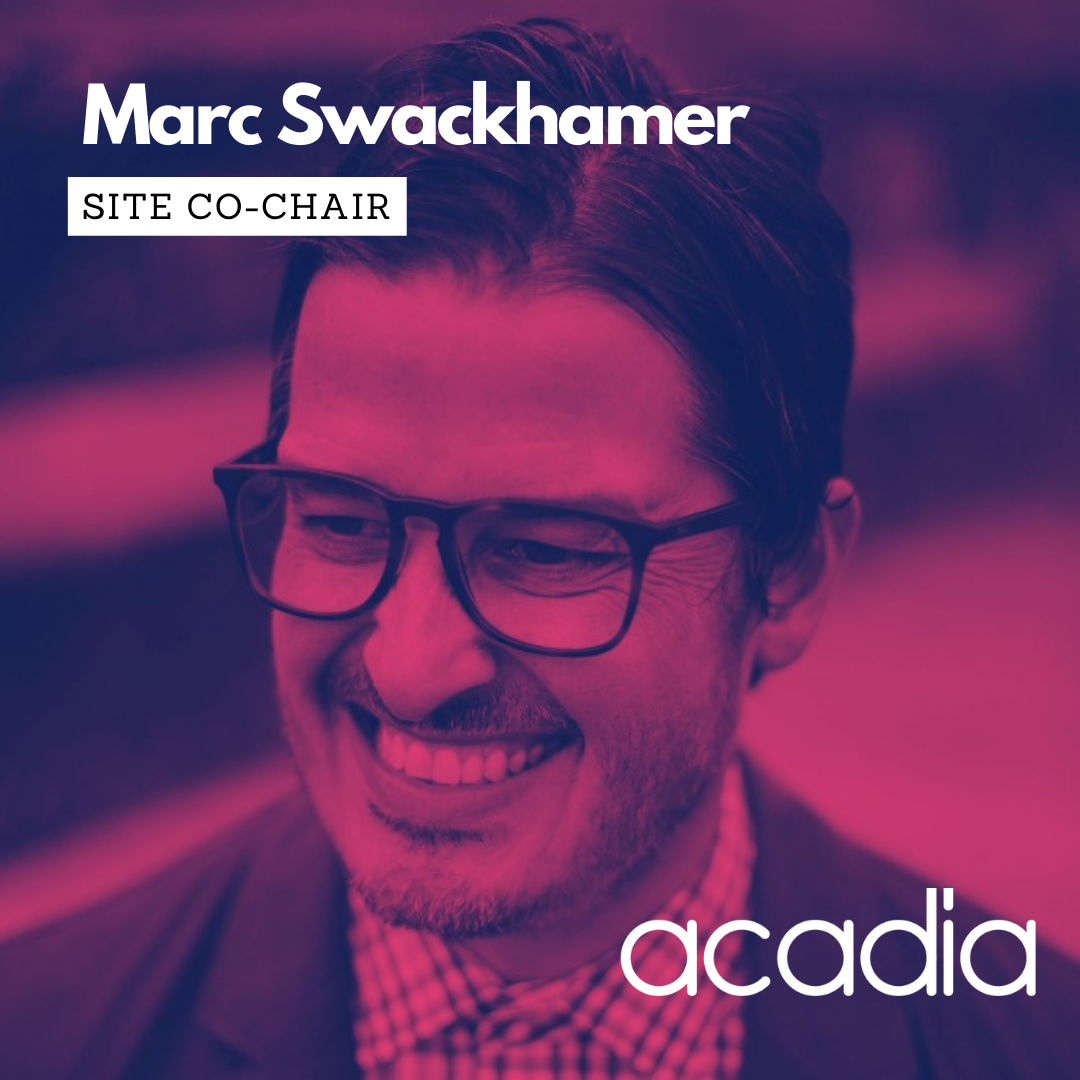 —
SITE CO-CHAIR
MARC SWACKHAMER
University of Colorado Denver
Professor and Chair, Department of Architecture
Marc Swackhamer's research practice,
HouMinn
, is a partnership with Blair Satterfield from the University of British Columbia. Their work challenges broadly accepted approaches to design agency through focus on interdisciplinary partnerships, unconventional making, material misuse, and the role of decay in architecture.
HouMinn
has won national design awards from
Architect Magazine
,
ID Magazine
, and Core77. Marc's interdisciplinary design collaborative,
MinnLab,
won the Minneapolis "Creative City Challenge" and a Minnesota American Society of Landscape Architects Deign Award. With Blaine Brownell, from the University of North Carolina Charlotte, he co-authored the book
Hypernatural: Architecture's New Relationship with Nature
. Marc recently launched a post-disciplinary design research laboratory at the University of Colorado Denver called
LoDo Lab.
He is Chair of the Architecture Department and Professor. He studied at the University of Cincinnati and Rice University.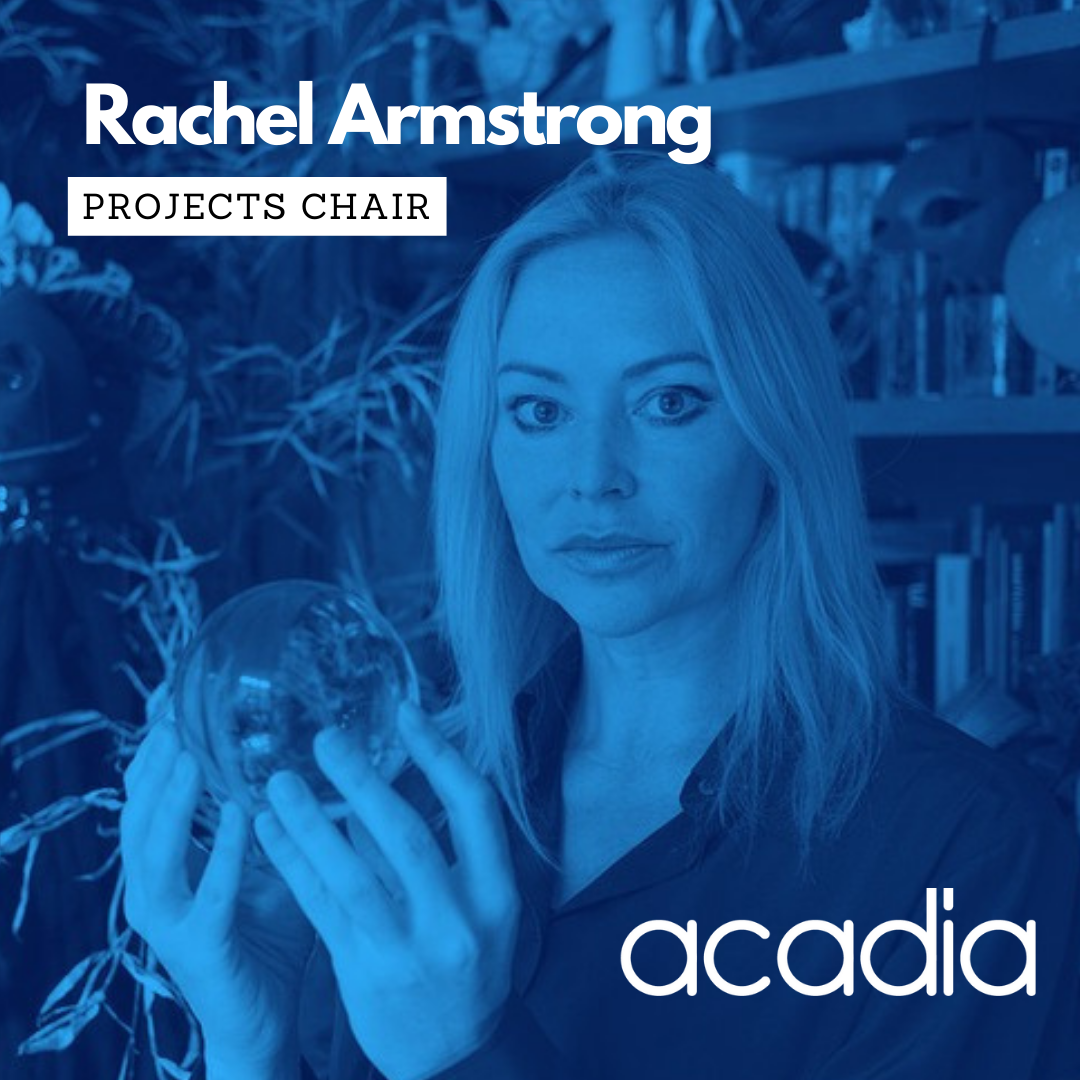 —
PROJECTS CHAIR
RACHEL ARMSTRONG
Professor of Regenerative Architecture
Department of Architecture, KU Leuven
Rachel Armstrong is Professor of Experimental Architecture at Newcastle University (UK) and has also been a Rising Waters II Fellow for the Robert Rauschenberg Foundation (April-May 2016), TWOTY futurist in 2015, Fellow of the British Interplanetary Society, and a Senior TED Fellow in 2010. She is also the coordinator of the Living Architecture project, an EU-funded project that establishes the principles for our buildings to share some of the properties of living things, e.g. metabolism, operating at the intersection of architecture, building construction, bio-energy and synthetic biology. She is also the author of
Vibrant Architecture
(De Gruyter, 2015),
Star Ark: A Living, Self-Sustaining Spaceship
(Springer, 2017), and
Soft Living Architecture: An Alternative View of Bio-informed Design Practice
(Bloomsbury, 2018).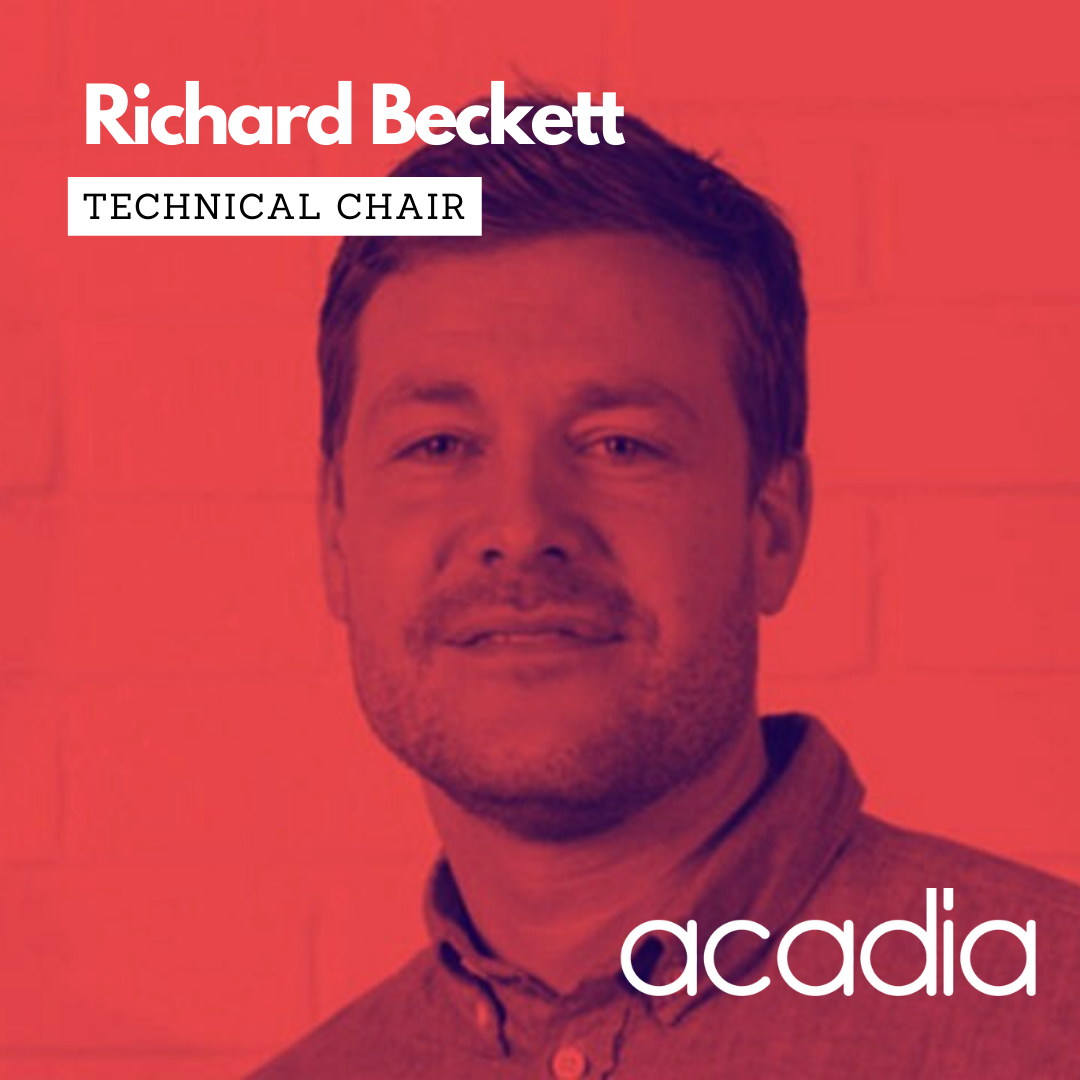 —
TECHNICAL AND FABRICATION CHAIR
RICHARD BECKETT
The Bartlett School of Architecture
University College London
Richard Beckett is a lecturer and Director of BiotA Lab at the Bartlett / UCL currently working on an EPSRC funded project "Computational Seeding of Bioreceptive Materials". He has a multidisciplinary background initially studying biochemistry and working in R&D for Glaxosmithkline as a material scientist before going on to study and teach architecture at UCL. His investigations into architecture have remained cross-disciplinary focusing on the contemporary discussion on digital architecture and novel fabrication alongside the impact of biotechnology on architecture and more specifically, investigations into the use of living or semi-living materials in our built environment. This background acquires him with a cutting-edge expertise in the field of computational data production, 3D printing and digital manufacturing as a material and technical innovator. He co-founded design/fabrication consultancy Arch-T in 2013 working at a range of scales and industries from architecture to fashion including their recent design collaboration as material designers, developing novel 3D printed fabrics with Pringle of Scotland 2014-2015 which has gained international acclaim.
—
TECHNICAL CHAIR

OZAYR SALOOJEE
Associate Professor
Carleton University
Ozayr Saloojee is an Associate Professor of Architecture at Carleton University in Ottawa, where he is also cross-appointed faculty at the Institute for African Studies, affiliate faculty at Carleton's Center for the Study of Islam and Co-Director of the Carleton Urban Research Lab and serves as Associate Editor of Design for the Journal of Architectural Education (JAE). His teaching, research and creative practice link architecture, politically contested terrains, design justice and geo-imaginaries, and his work has been and has been presented at venues in Canada, the United States, Turkey, Europe and Japan, with co-authored works published for Transmediale's 2021
Almanac for Refusal
, (Berlin), Ashgate Press, A2, and upcoming works from the University of Toronto Press, Oxford University Press and Intellect Press. His teaching and research have received recognition from the American Institute of Architects-Minneapolis, the Association of Collegiate Schools of Architecture (ACSA), the Architectural Research Centers Consortium (ARCC) and from Architect Magazine. He is a founding member of the interdisciplinary Fluid Boundaries Collaborative and the HiLo/YOW+ Collective, both shortlisted to curate Canada's 2021 and 2024 contributions to the Venice Biennale. Born and raised in South Africa, he competed his B.Arch and Post-professional M.Arch II (Theory and Culture) from Carleton University and his doctoral research at the Bartlett School of Architecture (University College London).
—
TECHNICAL CHAIR
JAMIE VANUCCHI
Director of Undergraduate Studies, Assistant Professor
Cornell University
Jamie Vanucchi is an assistant professor and director of undergraduate studies. Jamie's teaching and research test the capacity of design and design research to address our most pressing 21st-century problems. She is interested in "strong sites", landscapes driven by change in the form of powerful constructive and destructive processes, and design that intentionally intersects with those processes and unfolds in time. Current projects include the study of floodplains as unique, disturbance-driven landscapes and potential community assets, the restoration of floodplain buyouts, designed forests for climate mitigation, and framing design research as a distinct mode of knowledge production that is complementary to science and especially needed now due to the novelty and uncertainty of climate-changed futures. Her research is funded by NIFA, Cornell's Atkinson's Center for Sustainability, The Landscape Architecture Foundation, and Cornell Council of the Arts. Jamie has a small design-build practice and she is a partner with the Great Lakes Design Labs and LoDo Lab at CU Denver.
—
COMPUTATION CHAIR
ANDREW ADAMATZKY
Professor of Unconventional Computing
University of the West of England Bristol
Andrew Adamatzky is Professor of Unconventional Computing and head of the Unconventional Computing Group at UWE, Bristol, UK. His research interests include non-standard and nature inspired computation, theoretical computer science, artificial intelligence and crowd dynamics, mathematical biology and psychology, non-linear sciences. His recent work has included development of logical and arithmetical circuits in excitable chemical media, slime mould, and liquid crystal figures; and also, development of intelligent massively parallel actuator arrays, formal languages and complexity of cellular automata models, novel types of information processing in memristive devices, design of parallel hybrid computers from living slime mould
P. polycephalum
and from living Fungi.
He authored seven research monographs (published in Springer, Elsevier, World Scientific): "Identification of Cellular Automata", "Computing in Nonlinear media and Automata Collectives", "Reaction-Diffusion Computers", "Dynamics of Crowd Minds", "Physarum Machines". "Reaction-Diffusion Automata", "Bioevaluation of World Transport Networks", edited 14 monographs (published in the MIT Press, Elsevier, Springer, World Scientific), authored over 300 papers in peer reviewed international journals, founded the Unconventional Computing Lab at UWE, Bristol, founded two international journals:
Int J Cellular Automata
and
Int J Unconventional Computing
and one book series "Emergency, Complexity, Computation." News stories about Adamatzky research are published in
New Scientist
,
Scientific American
,
Wired
,
Technology Reviews
,
The Guardian
,
New York Times
, etc. He was amongst key figure in the documentary movies `The Creeping Garden' (2014, UK) and `The Blob' (2019, France).
—
WORKSHOPS CHAIR
SARAH AZIZ
Assistant Professor, School of Architecture and Planning
University of New Mexico
Sarah Aziz is an Assistant Professor at University of New Mexico and has previously worked at University of Colorado Denver as a Visiting J.E.D.I. Assistant Professor, University of Wisconsin Milwaukee and Texas Tech University, where she was Visiting Assistant Professor of Architecture. She holds a B.Arch from Liverpool John Moores University and an M.Arch from the School of the Art Institute of Chicago. Her work explores ways of circumventing existing, ineffective modes of information distribution and cultural production through fringe research and the production of temporary discursive spaces, and includes her directorship of MOOCH Series, exhibitions in Tokyo, London and Chicago and a MacDowell Colony Fellowship.
—
THEORY CHAIR
JOERN LANGHORST
University of Colorado Denver
Associate Professor, Department of Landscape Architecture
Joern Langhorst, Associate Professor of Landscape Architecture at the University of Colorado Denver, was educated in Landscape Architecture, Architecture and Urban Planning in Germany and the UK, and has taught in Landscape Architecture, Architecture, Urban and Regional Planning and Urban Design in the US and abroad. His practice has focused on projects in highly contested situations, such as redevelopment and remediation in post-industrial cities, brownfield sites, and post-disaster recovery, and is consulting on these issues nationally and internationally.
His research and teaching are exploring the processes and actors that make and unmake place, space and landscape, focusing on places of incisive and radical change, such as post-colonial, post-industrial and post-disaster cities. His approaches involve multiple perspectives and disciplines and establish a methodology he calls "landscape forensics". He examines how concepts such as social and environmental justice, resilience, and sustainability are conceived and implemented, arguing for a "right to landscape". Langhorst scrutinizes the role of emergent technologies, alternative processes and the relationships between traditional and new actors and agents, and foregrounds contestation and conflict as unavoidable processes central to landscape and place change.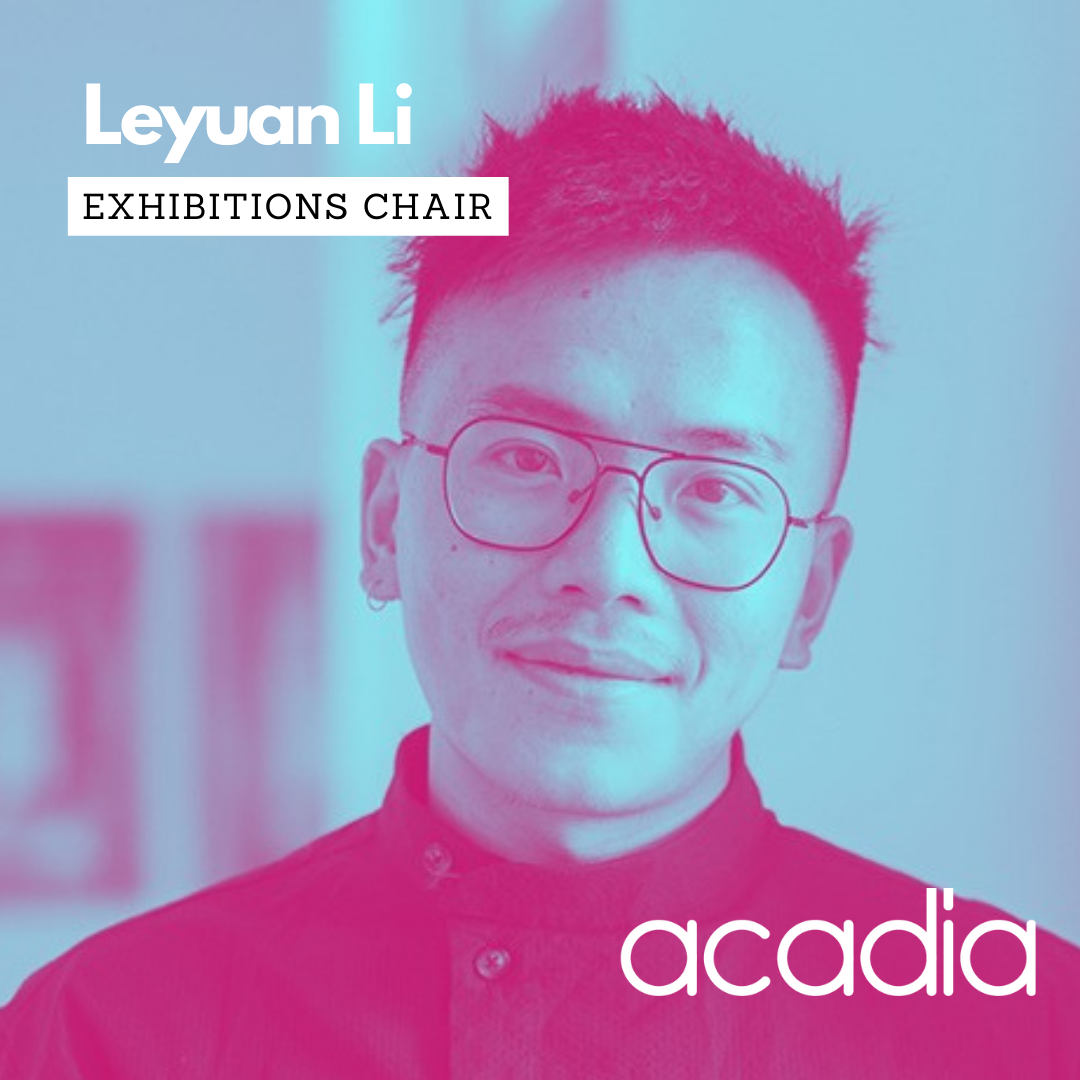 —
EXHIBITION CHAIR
LEYUAN LI
Visiting Assistant Professor, Department of Architecture
University of Colorado Denver
Leyuan Li is a Chinese architect, educator, and researcher whose professional and academic work focuses on interior and urban realms in the articulation of underrepresented identities, situations, and societies. He has practiced architecture internationally at OMA, SOM, and Affordable Housing Lab.
Li is the founder of Office for Roundtable, a collaborative practice that explores architectural and interior types in relation to environmental and social issues. Recent built works seek to interrogate the rapidly changing urban environment in China through the exploration of interior forms, and have been featured in Art and Design Magazine (China), Architecture and Urbanism (China), and Frame Magazine, among others.
Li is currently a Visiting Assistant Professor of Architecture with an Emphasis on Issues of Justice, Equity, Diversity, and Inclusion at the University of Colorado Denver. He has taught at Rice University's School of Architecture and the University of Houston, and has been invited to lectures and reviews at Nanjing University, Syracuse University, and Rhode Island School of Design.
Li's work has been published in journals and books, including
PLAT
,
New York Review of Architecture
, and
Drawing Codes
(AR+D, 2023), and has been exhibited at the UCCA Center for Contemporary Art in Beijing, OCAT Museum in Shanghai, Citygroup Gallery in New York City, and the 9th Bi-City Biennale of Architecture and Urbanism in Shenzhen.
—
FACILITIES CHAIR
CYNTHIA FISHMAN
Assistant Professor of Practice, Department of Architecture
University of Colorado Denver
Cynthia Fishman, AIA | BSpec | NCARB | LEED AP | ACUE | Fitwel Ambassador (she/her) has an extensive background of 15-years in sustainability and the practice of architecture as a licensed architect. She is the Director and founder of the Biomimicry Design Alliance, a research and consulting firm in Denver, CO that makes biomimicry accessible to the design community.
She received her Bachelor of Architecture from Rice University in Houston, TX as well as an Ecological Design Certificate from the Ecosa Institute in Prescott, AZ. Cynthia was part of the first matriculating class at Arizona State University to earn a Master of Science in Biomimicry degree, which is the first in the world to offer an accredited program. Cynthia is one of the recipients of the 2019 National AIA Young Architect Award, the 2018 Engineering News Record (Mountain States Region) Top Young Professionals Award, and AIA Colorado's Leadership Award in 2015 for her outstanding contributions to the architectural profession.